Home
/
Products
/
Unbleached 18x26 Parchment Paper Sheets - Exact Fit for Full Size Commercial Baking Pans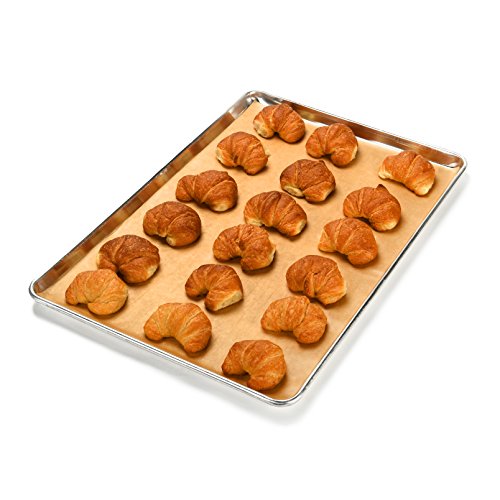 Unbleached 18x26 Parchment Paper Sheets - Exact Fit for Full Size Commercial Baking Pans
$119.00 $124.99
**Oversized shipping rate of $18.99 is applied for this size only.** 
Perfect fit for your 18x26 pans   
These natural brown unbleached parchment paper sheets are perfect for 18x26 size baking pans. No more having to deal with trying to cut the exact size for full-sheet baking pans. Eliminate wasting extra paper from parchment rolls. You may find that other parchment sheets will not provide the exact fit that ours do.
Multiple Uses and Versatile

From delicate cookies to sticky caramel buns, every baked item slips right off the parchment paper sheets. They have multiple uses and are great for cakes, cookies, and muffins as well as for cooking fish and chicken, and pizza.

Non-Toxic
The parchment sheets are environmentally friendly and are unbleached. They are better for your health and also more pliable than white parchment paper. Zenlogy's parchment is coated with silicone to make them greaseproof.
Easy Storage 

Comes in a perforated box so you can pull out sheets as needed while storing them securely.   

WHY ZENLOGY PARCHMENT – Our Non-toxic Silicone coated Greaseproof Parchment baking sheets provide the perfect fit for your 18x26 Sheets Pans with easy storage in a perforated box. Ours out perform any other parchment sheets in the market. Others have not perfected the art of exact size parchment like we have.

WILL NOT BURN OR CURL - Thicker than other parchment paper sheets in the market so it won't tear, curl, or burn. Can be used for other uses besides baking. For example, it's great for freezing, fish wrap baking, and for use in dehydrator.

NONTOXIC - Zenlogy parchment paper sheets are unbleached, non-toxic, greaseproof and biodegradable. Although we only recommend for one time use, our customers have reported that they often use it 2-3 times before discarding it.

EASY STORAGE - Our sheets lay flat and comes in perforated box for easy storage and use.. Keeps your bake ware clean.

HIGH HEAT BAKING - Recommended for use up to 450 deg Fahrenheit. Has a light non toxic silicone coating to make it greaseproof. Other parchment paper sheets are made from Quilon which is a chemical.

Zenlogy's large parchment paper sheets are designed to fit perfectly in a full size sheet pan 18 x 26 inches and are great for restaurants, cafes, bakeries, and other commercial kitchens. The sheet size is approx. 16x24 which fits inside the large sheet pan.